The old saying goes "Blondes have more fun" which might be true, but protecting, caring for, and maintaining luscious blonde locks isn't always as much fun! Susceptible to breakage, damage and brassiness, keeping your tresses salon-worthy between appointments needs not be a constant challenge.
We often get asked which products are best for blonde hair, whether its natural, highlighted or bleach, our edit highlights the best products for all blonde hair types.
Our curated selection focuses on products which protect, maintain, and prevent blonde tresses going into a hot mess within a millisecond. From purple shampoos through to heat protection, we are here to help you look after your blonde tresses.
Best shampoo and conditioner for blonde hair
We have wide selection of shampoos and conditioners for blonde hair, but we really love the Davines Heart Of Glass Collection for natural, cool and warm blondes. It's designed for daily use to gently brighten and neutralise unwanted brassy tones – also good for white or grey hair to eliminate yellow tones. Don't be put off the bluish tone of the Silkening Shampoo and Rich Conditioner, this is thanks to the Jagua Blue extract which is what balances unwanted reflects, controls undertones, and enhances blonde hues in natural and cosmetically blonde hair without stripping it of its goodness. Blended with Biacidic Bond Complex and Baobab extract, they work together to boost strength and prevent damage from UV rays which can make the hair porous and look dull and frizzy.
Best toner for blonde hair
Any form of highlights and bleaching can be damaging to the hair fibre and over-time cause the hair to be fragile and prone to breakage if not cared for correctly. OLAPLEX has transformed even the most compromised tresses, thanks to its unique patented Bond Building technology which works on relinking broken bonds (caused by bleaching, colouring hair, and heated tools) and repairs them from the inside out. The OLAPLEX Blonde Enhancer Toning Shampoo is top of our list for those who love their blonde highlights and bleach but need extra care to prevent damage. Firstly, it gives customisable toning results, thanks to its intense pigment which delivers three times brighter results than regular purple shampoos and means you only need to use it 2-3 times a week to see results – complement your routine by alternating this with your regular shampoo, the Olaplex No.4 Bond Maintenance Shampoo is a goodie. Secondly, it's a hydrating cleansing shampoo, so it won't dry your hair out like some blonde brightening shampoos so it can help revive your blonde hair whilst keeping it nourished from the roots to ends.
Best treatment for blonde hair
If damage is a concerned of yours, the Olaplex No.3 Hair Repair works miracles on blonde hair which needs bringing back to life. Use before shampooing and leave on for minimum of 10 minutes and then wash off, follow with shampooing and conditioning – you can thank us later.
Best heat protectant for blonde hair
Blonde hair is known to be more fragile and prone to breakage, so it's important to care for it at every stage. The Kérastase Blond Absolu Cicaplasme Heat Protector is a firm favourite as it's a heat protectant in cream form and has a multitude of benefits which work brilliantly for blonde hair. What's great about this thermal protective cream is that it can be used on wet or dry hair and provides heat protection up to 230°C. This is particularly good if you can't part with your hair straighteners. Blonde hair is known for being porous, which along with the UV exposure can make blonde hair look dull and lacklustre. Safeguarding against daily oxidation, pollution, and UV rays, keeps your locks looking vibrant. It's infused with Hyaluronic Acid and Edelweiss flower, which instantly treats damaged areas, seals split ends and smooths the cuticle, so your hair looks glossy, frizz-free, and shiny.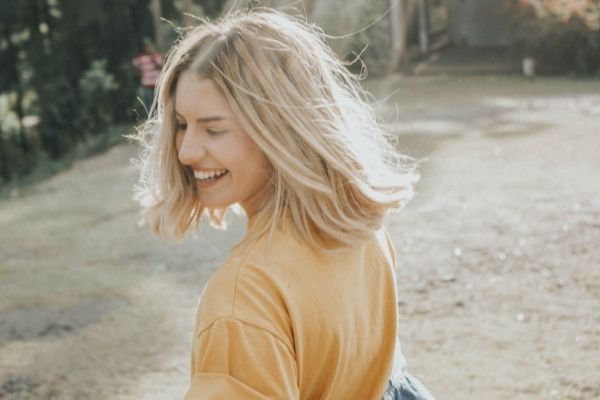 Best shine serum for blonde hair
A top pick is the Blonde Life Brilliant Glow Brightening Oil as its suitable for every shade of blonde. It restores the hair's luminosity, boosts shine, and restores softness with only a few a drops and can be used on both dry or damp hair. Your blonde will appear brighter than ever and extraordinarily illuminated. The added smoothing ingredients revs up the radiance of even the lightest hair, nourishing and protecting each delicate strand to combat frizz and reduce.
Playful colours for blonde hair
For those blondes, who want to have fun, these Creative Conditioners from the Davines Alchemic collection are specially for both naturally light blonde and bleached hair to experiment with playful colours which fade out gradually with every shampoo - so you can mix up your look without the commitment. Have fun.
Best semi permanent blonde hair dye
If your natural blonde is succumbing to greys, then a good option to refresh your colour is the Milk_Shake Direct Colour Collection uses semi-permanent, high-quality pigment formulations, immediately sprucing up your blonde locks and lasting up to 10 washes. Distribute over clean, damp hair, leave in for 5 to 30 minutes, emulsion with some water, then rinse. Available in two blonde shades, Beige Blonde and Golden Blonde.