If you've been blessed with a head full of thick hair, you're likely the envy of your friends. But you'll also understand the lifelong struggle of maintaining it. We feel your pain.
Here we bring you some of our favourite products for thick, coarse and unruly hair.
Best shampoo and conditioner for thick hair
Our 'go to' shampoo & conditioner for thick hair is the Davines OI Shampoo & Conditioner Duo. Formulated with Roucou oil to nourish hair and leave it feeling soft, shiny and more manageable, you'll notice results from the very first wash. You only need a small amount, even on thick hair, and you'll love the gorgeous scent.
If you've got thick hair, the last thing you need is extra weight from a build-up of product and natural oils. This can leave hair looking dull and feeling a bit waxy & sticky. Using a clarifying or purifying shampoo now and again will give your hair a deeper clean. We love the Joico K-Pak Clarifying Shampoo - it gently removes any build-up of nasties without stripping away your colour. We recommend substituting this in place of your normal shampoo once every couple of weeks.
Our other top tip for thick hair is to use a dry shampoo when you simply don't have time for a blow dry. Perfect after exercise or if you're trying to go an extra day between hair washes, the Fresh Affair from Kérastase has a lovely light texture and won't add extra weight to your hair.
Best styling products for thick hair
Our favourite styling product for thick or coarse hair is the Davines OI Liquid Luster. If you want hair that moves weightlessly and feels like glass, this product is a total game changer.
Applied in between your shampoo and conditioner, simply comb through the hair in sections. It takes less than a minute to work its magic and transforms even thick, coarse and wiry hair textures into something smooth, glossy and manageable.
If your hair is prone to frizz at the slightest hint of humidity, another favourite of ours is the Lifestyling Amazing Spray from Milk_shake. Simply apply this lightweight spray to damp hair before blow drying. The Lifestyling Amazing Spray is heat activated and prevents frizz by coating each strand with special polymers that encase the hair from root to end, blocking out humidity. It can also help to speed up blow drying time.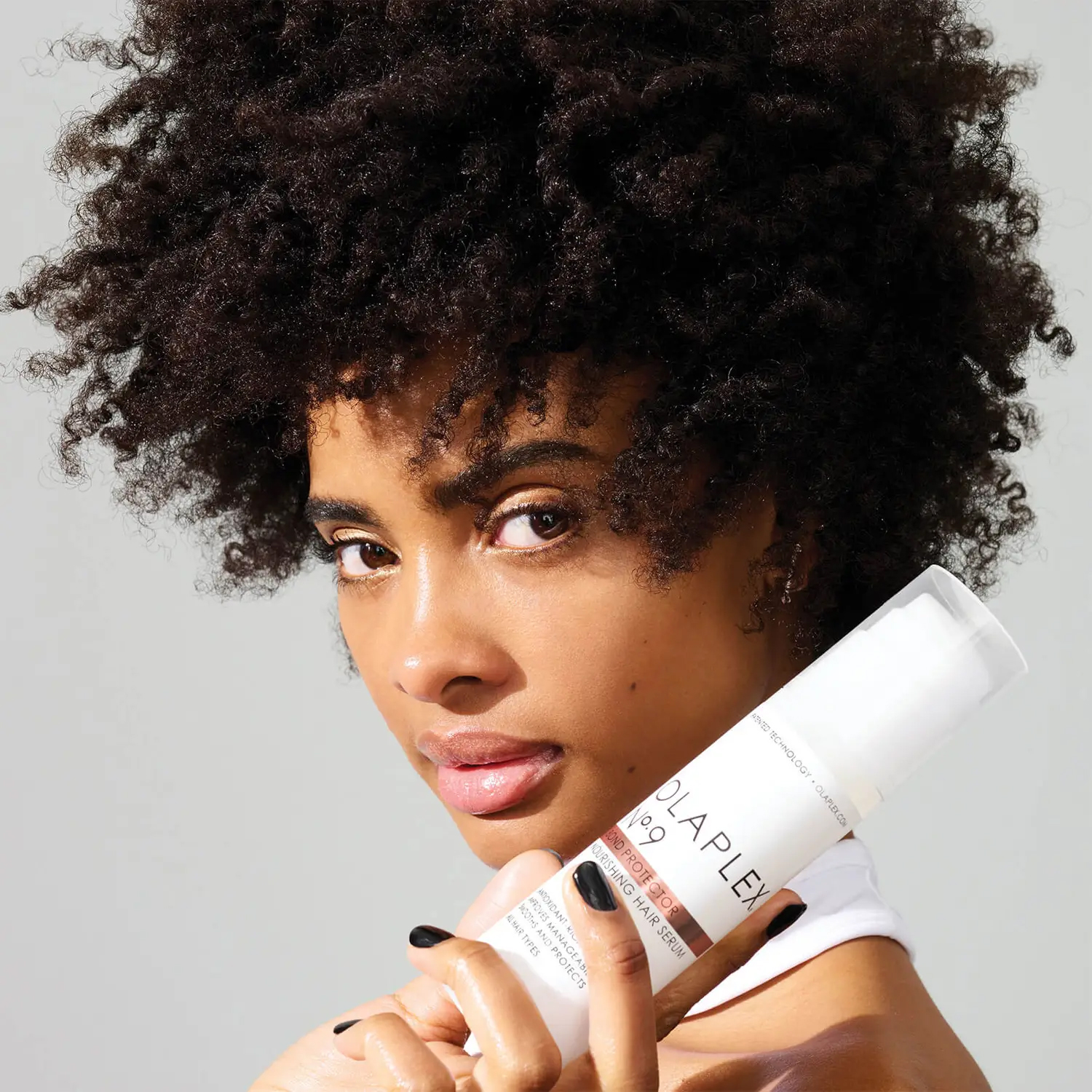 Best heat protectant for thick hair
Thick hair can be prone to dryness and breakage so it's really important to use heat protection, especially if you're addicted to straighteners.
We love the Olaplex No.9 Bond Protector Nourishing Repair Serum. It can be used on damp hair (before you apply any other styling products) to protect against heat up to 230°C. It also protects against the effects of pollution which can destroy hair bonds and proteins causing tangles, split ends, breakage, and hair that's hard to style.
The Olaplex No.9 Bond Protector Nourishing Repair Serum can also be used on dry hair to offer protection on non-hair wash days. It feels totally weightless in the hair and as well as its protective benefits, adds shine and prevents frizz. And a little goes a really long way!
Best hairdryer for thick hair
Thick hair takes A LOT of drying so it's really important to invest in a good hairdryer. Look out for one with a professional AC motor as these tend to have a more powerful airflow and will get your hair dry more quickly. If you suffer with static and frizz, go for one with an ionic feature. We love the ghd Air, which will power through thick hair in no time.
Best straighteners for thick hair
When it comes to straighteners & stylers, ghd are synonymous with being the best on the market, and it's easy to see why. We love the ghd Max Hair Straightener which has extra wide plates, specifically designed to get through longer or thicker hair, faster. The ghd Max Hair Straightener will glide through the hair leaving even the most coarse, unruly hair types feeling smooth & shiny. And despite the wide plates, the ghd Max Hair Straightener is still great for creating curls & waves (if you've got the knack!)
If your thick hair is prone to frizz throughout the day, it's also worth considering a cordless hair straightener like the ghd Unplugged Hair Straightener, which you can keep in your handbag for those hair emergencies. Delivering the same performance as your regular ghd straighteners, the ghd Unplugged Hair Straightener will give you 20 mins of cordless power whenever you need it.